simPRO is great Job Management software for trades like Plumbing, Electrical, HVAC, Solar, Fire and Security.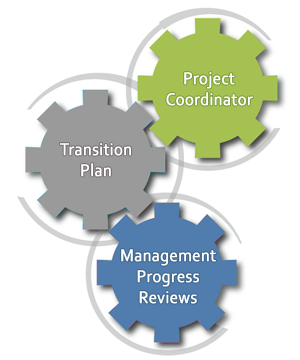 Setting Up simPRO Successfully 
A couple of key concerns for clients considering a move to simPRO job management is making sure the new systems are keeping the business running successfully during the transition and enabling staff to embrace it. The idea of change can be daunting for staff and stressful for management who are driving mulit-million dollar businesses. 
To address this, Solvere has devised a full Project Co-ordination service to ensure firstly that simPRO job management software is the right choice for clients, and that the transition process has minimum disruption to staff and the running of the business.
  We start by asking a few questions:
What do you want to achieve?
How long will it take?
Who will manage the implementation and training?
When moving from ERP desktop software to less cumbersome, modern cloud solutions, it's important to have a clear idea of what you are trying to achieve.
Solvere helps with this by providing a Reporting Workshop to review current  business processes and confirm the operation of the business would benefit from a move to simPRO. During this process we can advise from prior experience as well as having an unbiased perspective on suitable software for your business.
Developing a Transition Plan
Some immediate improvements that can come from a Reporting Workshop are:
Excell Spreadsheets:  These will be replaced for providing P&L and other Management Reports across simPRO and Xero. This can now be completed with real time data with the push of a button.
Report Limitations: We ask how current reporting is limiting the business and demonstrate what is now possible across simPRO & Xero. 
Future Reporting Structure – Planning the simPRO and Xero set up from the start to enable desired reporting when up and running on the new systems
Once these initial steps are completed, Solvere can then put forward a detailed transition plan that outlines the following tasks:
Moving accounting data
Setting up simPRO with Client Specific Jobs
Training Key Staff on simPRO and accounting software
Monitoring tasks to ensure the project progressed in line with the agreed timeframe
Providing ongoing support when Staff began using the new program
It's important to know that a successful transition will take approximately 3 months and Solvere can take a lot of the stress out of managing the move internally and ensure businesses get the efficiencies they set out to achieve by moving to simPRO.
You can check out more simPRO tips on Cost Centres & Financial Reporting, using Plant & Equipment and Estimating in simPRO on our Blog Page.