We recently assisted a business with the process of moving to new job management software and were reminded that although we live in a digital world, not every business has a full understanding of how a modern trade services business can operate.
Most businesses have staff who have been exposed to working in a cloud environment to some capacity with software like Google, Office 365 and Dropbox and indeed most people these days are exposed to it in one form or another through their smart phone. But quite often whilst businesses are keen to embrace some form of digital process in their business, they are unsure of what a full digital tradie operation can look like.
Hardware Equipment
Moving to efficient modern day platforms requires up to date hardware. Most staff these days will have a smart phone of some sort which means they will be familiar with accessing and logging information via an app or other software. But from a business perspective, equipment such as iPads, laptops and smart tv's are all a key part of the digital communication process in a modern trade services business. Taking a lead on your phone, emailing a quote and submitting an acceptance through electronic service agreements, scheduling and logging job notes on an iPad, and invoicing on email. These days all workflow and communication can be achieved online with a collection of hardware tools.
Software Equipment
Of course hardware is of no use without software and there are lots of options for trade services businesses. These days all businesses will have some form of accounting software and popular products like Xero, MYOB and QuickBooks not only offer accounts processing solutions but also extend into timesheets for payroll and to a smaller extent, basic job and project management. The key benefit of cloud accounting software is that it allows your business to utilise it from anywhere in the world. This gives business owners the opportunity to manage their business and workflow from contacting a prospect through to invoicing a sale, all from a remote location.
For larger businesses with more requirements for job management, there are good options like simPRO, AroFlo and Service M8. Whilst all of these offer value for trade services business, their features scale up in line with their pricing. Whatever your budget or service requirements, these solutions will allow you to manage your business in a modern and efficient manner.
One of the biggest complaints, however, is that the systems don't integrate properly or do what the salesman offered. A lot of the time this is due to incorrect tailoring at set up stage. To avoid this you either need deep understanding of all packages to set it up internally or budget for an expert to set up your systems successfully.
Both cloud accounting software and job management solutions will have some form of file storage functionality but most businesses will have a file sharing service in place. Unlike the old-fashioned server tower in the boss' s office, a digital savvy business will use something like Dropbox, Google Drive or SharePoint in Office 365 to store and share company files. The last two options are usually complimentary if you are using the same software as an email provider and they have lots of options for secure storage and sharing as well as other digital functions.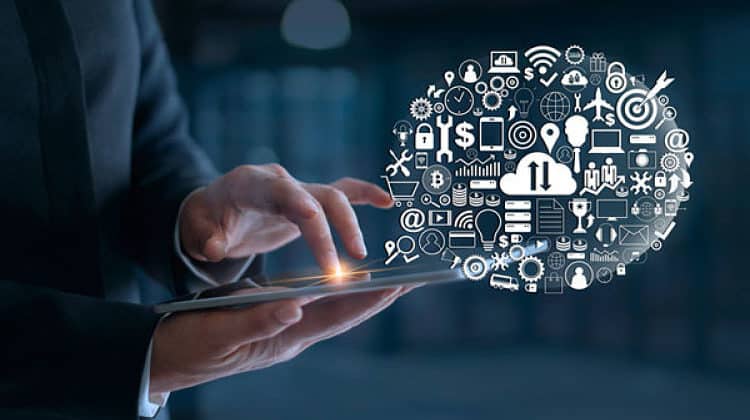 Communication
Communication is a key aspect in any successful business and whilst a good suite of digital tools should make this easier, businesses and more importantly staff, need to understand where the software fits in the workflow process. Most of the communication in a trade services business will centre around job management so it is natural that a high degree of focus will be on the job management system if the business has one in place.
However, management should have a holistic perspective with digital software particularly where the health of the business is concerned. Most job management software will integrate with accounting software which allows for more accurate reporting.
Getting the best out of your accounting and job management systems comes back to good communication – both platforms need to be set up properly to ensure the data being logged is relevant to the current business operation and is being shared accurately across the integration. If your reporting outcomes are not identified when setting up your systems, management will unlikely to have confidence in their accounting and job management systems.
Timesheets & Payroll
Most cloud accounting software will have some form of timesheet function for business. If we use Xero as an example, both management and staff have access to a timesheet function that can be used to process pay runs. There are also benefits in using the staff portal to make reviewing and approving leave easier and enabling staff to access their own pay slips for things like loan and rent applications.
In job management software like simPRO, technicians can log their time to jobs for a variety of outcomes such as invoicing a client for work, reviewing it for payroll or business performance aspects such as technician productivity. There are also options to add a third party integration tool like Sync Ezy to directly integrate the information from simPRO's timesheet function to payroll in the accounting software.
Reporting
There are a variety of digital tools to bring your cloud accounting and job management software data together and tailor reporting to your business needs. Again, most cloud accounting software allows for basic budgeting and reporting but if you are looking establish a 12 month forecast from a financial perspective you will probably need to source information across multiple data points. Software like Calxa, Futrli and Spotlight have a direct integration with Xero meaning you have real time performance data coming in and allow for third party data to be entered to achieve a variety of reporting scenarios.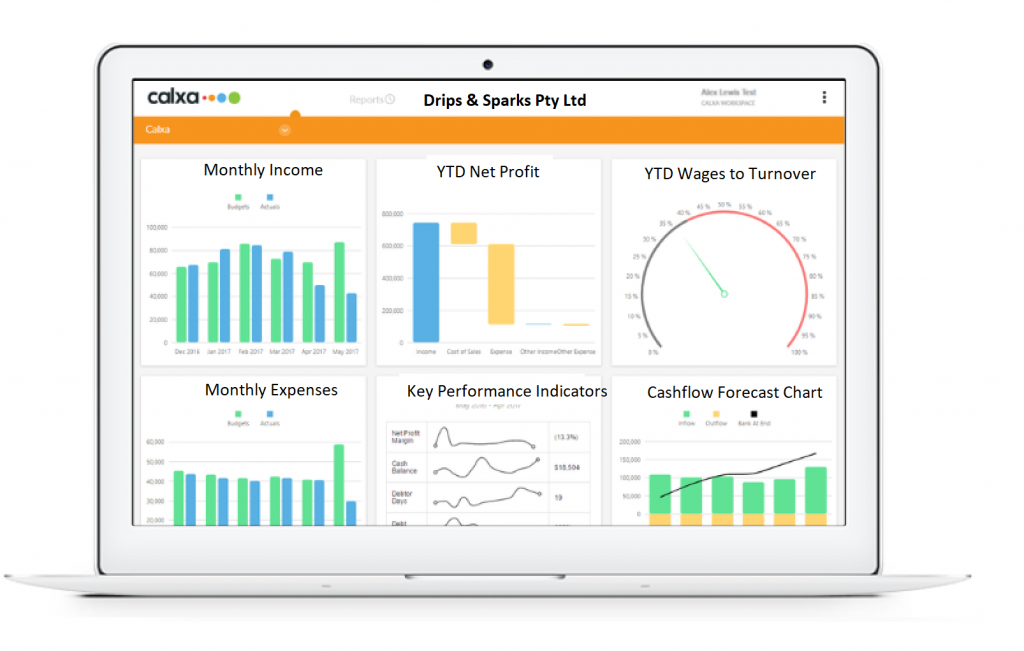 There are lots of ways to improve your business by using cloud technology. There's a strong possibility you already have some of the components mentioned above in your business but if you are still using paper based or other dated processes it unlikely you will get much benefit out of your digital tools. The goal is to take a look at your business from a holistic perspective and then put the plans in place to implement effective software to improve your workflow.